PLEASANT HILL, IA – (August 25, 2016) – yellowblue™ Eco Tech is a manufacturer and wholesaler with a network of independent authorized dealers who sell energy saving and healthy home products directly to consumers. Recently, yellowblue™ announced a partnership with BetterAir, a pioneer in the air and surface purifier industry.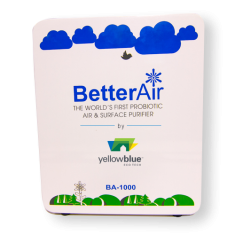 Through the partnership, yellowblue™ will become the exclusive residential distributor of BetterAir's BA-1000 Automatic Air Duct Purifier, the world's first probiotic air and surface purification system.
"After careful evaluation of the air purification market, we at yellowblue™ feel that expanding into environmental probiotics was the perfect next move for our company," said Craig Schwienebart, President of yellowblue™ Eco Tech. "With the support of BetterAir, we look forward to building on our passion to improve the quality of life for our valued customers. The BA-1000 will immediately integrate with yellowblue's™ existing line of solutions and help us further impact all areas of the home."
The BA-1000 puts science to work, intermittently releasing environmental probiotics into enclosed living and work spaces to consume organic irritants like pollen, dust mite waste and pet dander. The purifier, which offers increased protection from irritants in the air and helps control odors, is designed for residential and commercial spaces up to 5,000 square feet. In addition to providing cleaner air in the home, the purification systems are equipped with energy-saving technology to help lower energy consumption and filtration costs.
"The continuous cleaning of air ducts and heating, ventilation and air conditioning (HVAC) system components adds to the benefits of the environmentally-friendly product, which is the first of several that will be available through our partnership," added Schwienebart.
The BA-1000 is the initial product being launched under yellowblue's™ line of probiotic solutions, and will be released to independent authorized yellowblue™ dealers this month for early distribution. Planning for additional product launches is already underway.
"We couldn't be happier to partner with an organization like yellowblue™," said Taly Dery, CEO, BetterAir. "Our patented technology leverages the power of probiotics to replenish indoor spaces. Billions of probiotics work on a microscopic level to purify the air and clean surfaces and objects, especially hard to reach spaces like mattresses and air ducts."
"Knowing that yellowblue™ has an established network of independent authorized dealers with thousands of satisfied customers was a major component in helping formulate our strategic alliance. We expect a successful launch and look forward to shared growth, while spreading the word on the benefits of probiotic purification systems."
BetterAir purification systems are chemical-free, all-natural and safe for humans and pets. For more information about BetterAir by yellowblue™, visit www.yellowbluetech.com/better-air/.
ABOUT YELLOWBLUE
yellowblue™ Eco Tech is a manufacturer and wholesaler with a network of independent authorized dealers who sell energy saving products directly to consumers. yellowblue™ focuses on working in the residential and small business markets to help reduce energy costs, improve overall comfort, and reduce carbon footprint. yellowblue™ products include multi-layer reflective insulation and solar powered attic vents. To learn more about our company and other energy saving products, please visit https://yellowbluetech.com/.